Tool Loan #: 0004 Approved: May 26, 2011
Name of Owner: Dayton Diode
Name of Item: 10 Mhz Oscilloscope
Item Serial #: 00903
Estimated Replacement Cost: unknown
Item Description/Accessories:

B&K Precision 10 MHz Oscilloscope Model # 1461
Dayton Diode Expenses: All

User Expenses: None

Owner Expenses: N/A

Photos of Item: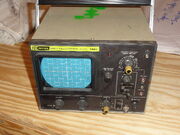 Links to documentation/tutorials:
Licensed under Attribution-Noncommercial-Share Alike 3.0 Unported.
Form consensed on by Dayton Diode membership on Feb 3, 2011.
Community content is available under
CC-BY-SA
unless otherwise noted.