Check-In
Ground Rules
Agenda Review
Hackerspace Location Selection
Attendance:
Edit
J Simmons
Greg Moran
Joe McKibben
Jason McDougald
Ron L
Dean Shrickel
Chad Snoke
Josh Stults
Bryan Fite
Ken Phelps
Jason Sanders
Start: 6:56PM
Check-In: What good thing has happend to you recently?
Edit
Treasurer:
2011 Budget categories made to match DMAs categories
Insurance:
DMA has committed to an early January "turn on" date for the new Gem City insurance coverage
Hackerspace location: (select-a-space) search team report and decision:
Reviewed the criteria used when looking for potential spaces
Round robin discussion about the groups preferences
overwhelming support for Front St space (even though no units are currently available) due to cost, ease of changes (by just moving between units), and location
Determined other monthly costs are insurance (@ $115/month) and internet (@ $60/month?)
NOTE - early group project needs to be a security system of some kind
Discussed upper limits on monthly rent at Front St given only 10 members, note, over $325 and income will not meet costs (but reserves will cover for half to a full year)
dues remain set at $50/month
discussed empowering a group of three to work with Front St and make final space selection based on monthly budget and previously established criteria
Final Proposal: Dayton Diode authorizes J Simmons, Joe McKibben, and Chad Snoke to follow up with Mourty at Front Street to rent the cheapest "nicest" space that meets our needs for $300-500.

Consensed on: 6 thumbs up, no stand asides and no blocks
Other Issues:
Edit
January agenda topics (potential):

Hackerspace policies (usage, storage, equipment loans/donations)
New officer positions: 1) DMA representative, 2) Facility Manager, 3) Treasurer
Finding a sponsor (to help with funding)
Brainstorming ways to increase membership

The group was in agreement that basic membership duies will be increased to $50/month
End: 8:22 PM
Laser Scanner hack
Edit
...and other meeting pics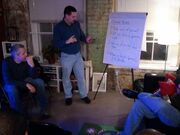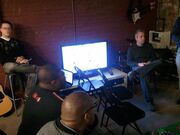 Community content is available under
CC-BY-SA
unless otherwise noted.